Monthly Archive for September, 2009
Milla Jovovich Nude In Purple Magazine Fall/Winter 2009 shot by Mario Sorrenti.
Continue reading 'Milla Jovovich'
Kate by Inez Van Lamsweerde & Vinoodh Matadin for Vogue Paris October 2009.
Continue reading 'She Never Stops'
Nathalie Rykiel just confirmed that Sonja Rykiel will be the next guest designer for H&M. Beautiful, knitted Sonja Rykiel clothing made affordable by H&M is enough to make my winter.
Abi and I are veritable tea addicts. Whilst I am a connoisseur of camomile and other such herbal concoctions, Abi favours the traditional PG tip. A nice hot cup of tea is one of life's simple pleasures, that; we are both agreed on even more so when sipped in style. Katy Potts Tea for Two sources the most gorgeous vintage tea and cake range from the 1920′s to 1950′s.
Meet (from top:) Octavia, Prudence and Parker. So beautiful, so quintessentially English and quite possibly the names of my future children? I feel no shame in declaring that stumbling (quite literally) into this collection was the highlight of my fashion week. The collection is available at the V&A Museum and Libertys.
Continue reading 'Katy Potts tea for two'
Estethica, now in it's sixth season is the British Fashion Councils eco sustainable initiative sponsored by Monsoon. All estethica designers adhere to at least one of the three principles of fair-trade, ethical practices and organic or recycled materials, combining ethical credentials with excellent design.
Rocios collection of eco-lux clutches were a firm favourite of mine. Strictly handcrafted from recycled Acacia wood; these bags are a work of unique art. The intricate designs juxtaposed with the superbly finished glazed exterior cut a sustainably chic statement. These bags are sure to be a hit with tree hugging eco warriors and luxury label enthusiasts alike.
Photo by Pamela Peter-Agbia
I used to sigh with disdain as friends talked passionately of Gareth Pugh and his 'creative genius'. As far I was concerned, Mr.Pugh was nothing but an arbiter of style without substance a sensationalist non-art artist or something to that effect. Then I saw this at Nick Knights SHOWstudio exhibition and happily ate my words.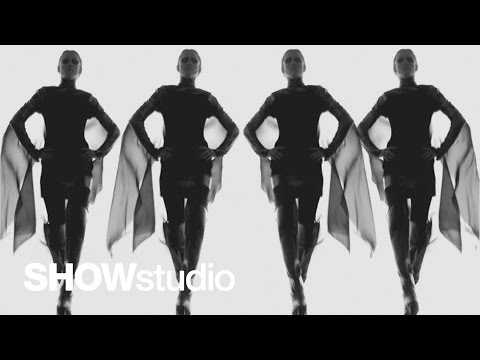 This visionary delight is of Pughs Autumn/Winter 09 collection; a creative collaboration with film maker Ruth Hogben which originally showcased at Paris Fashion Week. Put simply, it's just beautiful.
Structured pieces juxtaposed with floaty, feminine drapery made their way down the runway at Bernard Chandran.  A strong collection with a clear story, flowing bamboo prints, wooden block sandals, avante garde face masks and conical headwear spoke of Chandrans far east cultural background. A silk kimono style dress with a black sparkling bodice was one of the collection's standout pieces. All in all, this was a consciously creative effort which just about remained wearable.
Continue reading 'Bernard Chandram'
How can they just continue on creating the most amazing designs? Acne from Sweden is absolutely one of my favorite brands. Look at these amazing SS10 shoes.
Continue reading 'Acne Shoes SS10′